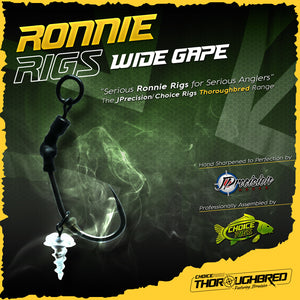 "Please note, price is for 3 rigs"
IF YOU REQUIRE BOOMS ADDING TO THESE RIGS PLEASE USE THE FOLLOWING LINK:
https://choicerigs.com/collections/booms
A firm favourite with our team members whilst in testing this Wide gape Ronnie rig is an absolute winner over spod mix or tighter spreads of boilie.
Sitting lower to the lake bed than a conventional curve shank Ronnie these are ideal when you want to present a tempting option for Mr Carp with out being too blatan.
Super sharp J Precision hooks
Ideal for fishing over Spod mix or tighter beds of boillie
Multiple hook bait options
We strongly recommend using pop ups from Mad Baits "Compulsive Angler" range with these rigs due to their incredible buoyancy and powerful attractors.
https://madbaits.com/compulsive-range/