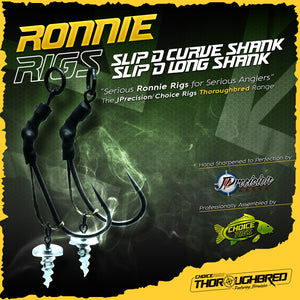 ***** 3x  "Thoroughbred" Ronnie D Rigs *****
 "Please note, price is for 3 rigs"
Two versions of another very special Ronnie Rig!
IF YOU REQUIRE BOOMS ADDING TO THESE RIGS PLEASE USE THE FOLLOWING LINK:
https://choicerigs.com/collections/booms
The "Slip D Ronnie Rig" combines the deadly hand sharpened hooks from J Precision with the 360-degree hooking power of the Ronnie Rig. If that wasn't enough these rigs are finished "SLIP D" style giving the bait complete freedom to be blown the maximum distance away and down the shank on the take away from the hook point and remove any worries about hook beads slipping on big casts.
The curve shank version not only fishes well with pop ups but in testing we have found these to be excellent with wafters or snowmen.
The long shank version is ideal for fishing over choddy bottoms or casting at shows where you want to know your presented with out knowing exactly what your fishing over.  
No hook beads that can slip on big casts
Korda "Super Natural" D for maximum movement 
Super sharp J Precision hooks
Curve shank version is excellent for wafters and pop up's
We strongly recommend using pop ups from Mad Baits "Compulsive Angler" range with these rigs due to their incredible buoyancy and powerful attractors.
https://madbaits.com/compulsive-range/