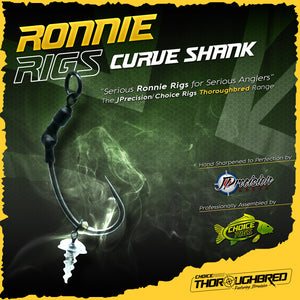 ***** 3x  "Thoroughbred" Curve Shank Ronnie Rigs *****
 "Please note, price is for 3 rigs"
IF YOU REQUIRE BOOMS ADDING TO THESE RIGS PLEASE USE THE FOLLOWING LINK:
https://choicerigs.com/collections/booms
Simply put the curve shank version of the Ronnie Rig is a timeless classic. It's probably accounted for more carp than any other rig since it hit the main stream and will continue to do so for years to come. 
Not too tall and not too short if your looking for a great all round Ronnie rig then look no further!
Super sharp J Precision hooks
Great for any baiting situation 
Multiple hook bait options
We strongly recommend using pop ups from Mad Baits "Compulsive Angler" range with these rigs due to their incredible buoyancy and powerful attractors.
https://madbaits.com/compulsive-range/