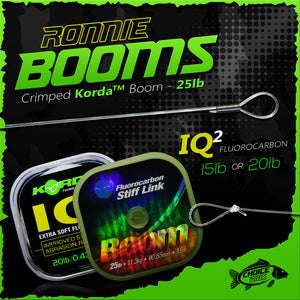 Please note, price is for 3 booms. 
(IF BOUGHT WITH RONNIES, CHODS OR LOOPS WE'LL ADD THEM TO YOUR RIGS FOR YOU!)
Available in 5 and 7 inches these Fluorocarbon booms are perfect when you want to make sure your rigs reset every time whilst maintaining a maximum level of stealth
Bought on there own for use with your own combi loops or if you buy these with any Ronnie rig , Chod rig or Loop rig in store  we'll add them to your rigs for you to create a hinge stiff rig, Ronnie with boom or Combi loop rig.
They feature a larger loop at one end for attaching to your lead system, and a smaller loop at the other end if you wish to add one of our , or your own combi loops
15 or 20 lb Korda IQ2 Fluro option
25lb Korda Crimped "Boom" Fluro Option
Excellent reset properties
5 and 7 inch versions available
 If you wish to add anti tangle sleeves to your booms please use the following link:
https://choicerigs.com/collections/end-tackle/products/3x-anti-tangle-sleeves-fitted-to-your-rigs