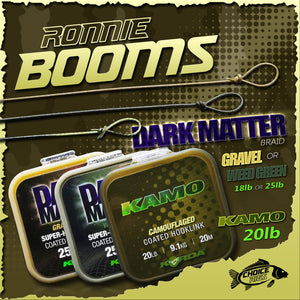 Please note, price is for 3 booms. 
(IF BOUGHT WITH RONNIES, CHODS OR LOOPS WE'LL ADD THEM TO YOUR RIGS FOR YOU!)
Available in 5 and 7 inches these Braided booms are perfect when you want to make sure your rigs sit over any debris or chod. 
The tungsten loaded Korda Dark Matter options are the perfect balance between stiff and supple.  They will reset well and hug the lake bed without the need for putty.
The Korda kammo option is the perfect all rounder, super stealthy due to the breaks in colour and will also reset very well.
Bought on there own for use with your own combi loops or if you buy these with any Ronnie rig , Chod rig or Loop rig in store  we'll add them to your rigs for you to create a hinge rig, Ronnie with boom or Combi loop rig.
They feature a larger loop at one end for attaching to your lead system, and a smaller loop at the other end if you wish to add one of our , or your own combi loops
20 lb Korda IQ2 Fluro option
18 and 25lb lb Korda Dark Matter options
Great reset properties
5 and 7 inch versions available
 If you wish to add anti tangle sleeves to your booms please use the following link:
https://choicerigs.com/collections/end-tackle/products/3x-anti-tangle-sleeves-fitted-to-your-rigs