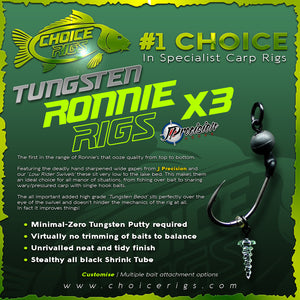 *****3x J Precision "Tungsten Loaded Ronnies" *****
IF YOUR REQUIRE BOOMS ADDING TO THESE RIGS PLEASE USE THE FOLLOWING LINK:
https://choicerigs.com/collections/booms
"Please note price is for 3 rigs, 360 screws may vary very slightly"
The first in the range of Ronnie's that ooze quality from top to bottom.
Featuring the deadly hand sharpened wide gapes from J Precision and our low rider swivels these sit very low to the lake bed. This makes them an ideal choice for all manor of situations, from fishing over bait to snaring wary/pressured carp with single hook baits.
The all important added high grade tungsten bead sits perfectly over the eye of the swivel and doesn't hinder the mechanics of the rig at all, in fact it improves things. 
Minimal to zero putty required 
Less to no trimming down baits to get them to balance perfectly
Unrivalled neat and tidy finish
Stealthy all black shrink tube
Multiple bait attachment options
We highly recommend pop ups from the "compulsive angler" range brought to you by Mad Baits due to their incredible buoyancy. We have tested all the pop ups in the range and they sit perfectly with out the need for putty or trimming the hook bait. Please follow the link below should you wish to check them out.
https://madbaits.com/product/compulsive-angler-pop-ups/
If you wish to use a different pop up and find it isn't buoyant enough you can actually trim down the tungsten bead to achieve your perfect balance.