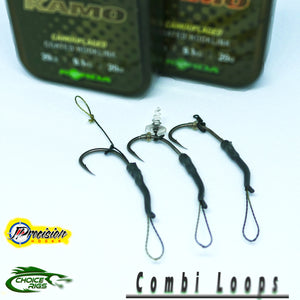 "We are extremely proud to be working closely with J Precision, with out question the sharpest hooks in the industry."
Please note price is for 3 combi loops..
**** 3x J Precision Wide gape "Combi Loops" ****
Here at Choice Rigs we are constantly looking for ways to maximise efficiency and time on the bank. These "Combi Loops" do just that. 
They boast serious hooking power thanks to the legendary J Precision Wide Gape Hooks and high grade tungsten line aligners, and come with a multiple bait attachment options to give you a multitude of hook bait / presentation choices for snaring that special carp. simply "loop to loop" them on to your chosen boom material and your good to go!
Razor sharp J Precision Wide Gapes

High Grade Tungsten Line Aligners

Multiple Bait Attachment Options

20lb Korda Kamo Braided section (coating removed)
I
n short these are strong, stealthy, versatile and incredibly effective. Without question a valuable addition to any self respecting rig box.