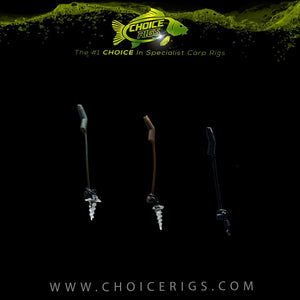 One of the main reasons our rigs have stood the test time is because we only use top quality components.
Everything from our swivels, to our tungsten products are of a very high standard and sourced from leading manufactures to ensure your rigs are the best they can possibly be."
Multiple purchases will be posted in the same packet unless other wise requested to save on plastic waste.
10x D Rig Kickers with fitted Micro Swivel or 360 Bait Screw with Colour Choice

.10 in a pack 
Here at choice rigs we understand that time is precious so we have taken the time to add your chosen bait attachment to these perfect D Rig aligners to save you the hassle..
These aligners/kickers have already proved to be incredibly effective on our very popular "Dark Matter D Rigs" with countless captures of big carp both home and abroad. Easy to use but incredibly effective and at a very competitive price we are sure you won't be disappointed.