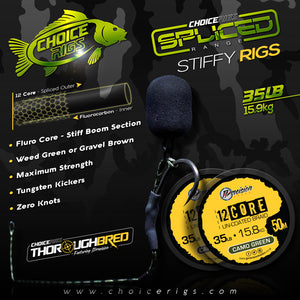 ***** 
3x "Thoroughbred" Spliced Stiffy Rigs
*****
"Please note, price is for 3 rigs and based on the time it takes to make them"
We are very proud to bring you the first commercially available spliced/stiff rig. Simply put, when it comes to strength and versatility these are going to be very difficult to beat.
Not just a versatile rig when it comes to hook bait options, these are equally at home being dropped from a bait boat as they are blasted out 100 yards plus due to the anti tangle properties of the rig.
There are ZERO KNOTS anywhere on this rig giving you a true breaking strain making them ideal for all manor of fishing. From the toughest of snags to the most intimate spots in the lake the "Stiify" has you covered!
Simply use an anti tangle sleeve for a stiff rig all the way to the hinge below the hook, or for you guys that like a hinge at both ends a "quick link" and silicone sleeve is just the job
35 lb SPLICED RIGS WITH GRAVEL AND WEED OPTIONS
 SUPER SHARP J PRECISION WIDE GAPE HOOKS
FOR POP UP'S , WAFTERS AND BOTTOM BAITS
UNRIVALLED RESET PROPERTIES
SUPER STIFF FLURO CORE
 8 INCH'S TOTAL LENGTH 
ZERO KNOTS
The only spliced/stiff rig you'll find anywhere
If you require anti tangle sleeves fitted to your rigs please use the following link: