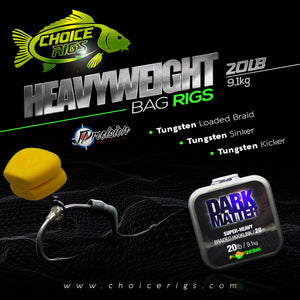 "We are extremely proud to be working closely with J Precision, with out question the sharpest hooks in the industry."
***** The Heavy Weight Bag Rig*****
"PLEASE NOTE, PRICE IS FOR 3 RIGS"
Our original bag rig was the result of testing various components, rig lengths, hook patterns etc etc and we managed to narrow things down to what we believe to be the perfect rig for solid bag and method feeder fishing.
The new "Heavy weight" bag rig utilises the same tried and tested components with the inclusion of a "Precision" Tungsten kicker.  
The kicker will ensure every thing stays pinned down with in the bag and helps to balance wafers that are just that little bit too buoyant.
Everything has been considered with these rigs, the weight of the tungsten loaded braid will ensure your rig is sat perfectly in side the bag or feeder, the tungsten sinker will compliment this but can be slid just behind the hook rather than having it mid rig. This will allow it to be used to take rig putty to permit the use of pop ups .
4 inch rigs that will sit in any size bag or method ball finished with the razor sharp J Precision wide gapes ensure the hook pricks quickly. This is very important as your target fish will be feeding tail up and not moving far while it feeds on your bag contents.
As with all of our rigs we recommend products from the " Compulsive Angler" range brought to you by Mad Baits..
https://madbaits.com/compulsive/
Razor sharp J Precision Wide Gapes

Fully tungsten loaded from top to tail

The perfect length for any bag or method ball

Can be used for Pop up's, Wafters or Bottom baits