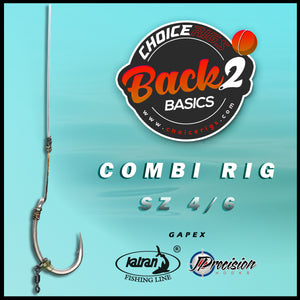 " The Back 2 Basics range of rigs feature J Precision hooks that have not been hand sharpened. Still the sharpest hooks you'll find before they see a file and the best hooks money can buy "
PLEASE NOTE - PRICE IS FOR 1 SINGLE RIG
⭐BUY 3 OR MORE AND GET 10% OFF!⭐
The Gapex Combi Rig..
The Gapex hook is one of J Precisions latest hooks to the range and lends itself perfectly to all manor of rigs, but especially a no nonsense combi. Simply put it's a fantastic hook that doesn't require shrink tube to create a seriously aggressive rig that will catch carp any where.
The boom section is Katran's  very special "Fantom" Fluorocarbon in 0.50mm. This stuff boasts a very impressive breaking strain of 29.73lb. Compare that to other boom materials on the market and your talking 25lb breaking for the same diameter 👌 
The Braid section is Katran's "Enduro" in 25lb, bomb proof, a lovely camo finish and is not going to let you down. Supple enough to aid hooking but just enough rigidity to ensure that your rig fully extends with a balanced bait giving you the best presentation possible.
✔ 8 Inches total length 
✔ Gapex Hooks made from VanadiumX steel 
✔ 29lb Fantom Fluro / 25lb Enduro braid combi
✔ Excellent  anti tangle and reset properties
In short these are strong, stealthy and reliable carp catching machines