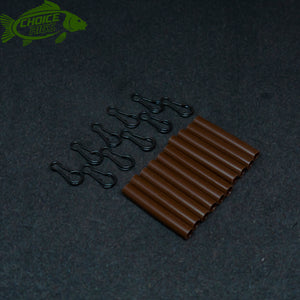 When it comes to changing rigs quickly and efficiently quick change clips take some beating, in-fact I dare say there is still nothing that beats them for speed and ease of use.
Combined with the perfect diameter silicone sleeves  that fit snugly over the clips , these "Quick Change Clips and Silicone Sleeves" are a match made in heaven. 
Available at a discounted price if bought together (10 of each in 1 pack) , as well as an option to buy them separately, these are an essential component for the modern day carp angler.