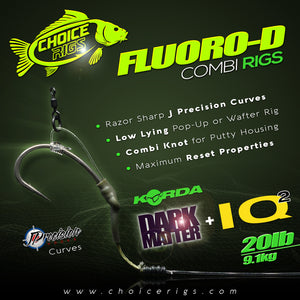 *****
Fluro D Combi Rigs
*****
"Please note, price is for 3 rigs, these rigs when tied correctly take time, this is reflected in the price"
Looking for a rig to present a pop up or wafter on other than a Ronnie ?
We've got you covered..!
As ever, zero corners cut with these, a true combi rig that will present pop ups beautifully but are equally at home with a wafter
The rigs are constructed with 2 of the finest materials on the market, Korda iq2 Fluorocarbon for the boom section, and Korda Dark matter for the braided section, both in 20lb. This is a tried and tested combination of materials , in short, they are made for each other. They form an incredibly strong "all bright" knot giving the rig strength when you need it but maintain a high level of finesse making them a wise choice for all manor of situations.
Couple the above with the Legendary J Precision Curve shanks and you almost have to feel sorry Mr carp..
Ideal for single hook bait fishing, or over bait
Razor sharp J Precision Curve Shank hooks
Low lying pop up or wafter rig
Super strong
Combi knot, ideal for taking putty
Maximum reset properties