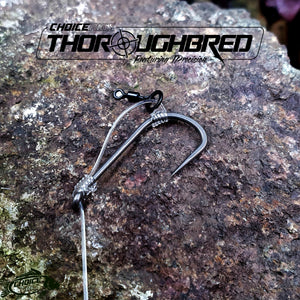 ***3x Long Shank Fluro D Rigs***  
DUE TO STOCK SHORTAGE THESE ARE CURRENTLY BEING TIED WITH KATRAN FANTOM FLURO IN 24LB
"If you require anti tangle sleeves fitted to these rigs please use the link below"👇
https://choicerigs.com/collections/end-tackle/products/3x-anti-tangle-sleeves-fitted-to-your-rigs
"Please note, price is for 3 rigs"
If there was one rig that has stood the test of time it has to be the Fluro D rig.
Otherwise know as the "IQ D Rig" (when tied with korda IQ) this dedicated wafter rig has a well-earned reputation for catching BIG carp form venues all over the world.
Ideal over hard/gravel bottoms there are few anglers that ignore this classic rig. Now with the deadly Long Shank hooks from J Precision and the brand new J Precision Fluro-Carbon this is a presentation that has been proved by our testers over the last few months to be extremely effective.
Completely invisible in water, stiff enough to boast great reset properties, superior knot strength and with the 25lb version being a lower diameter than korda iq2 in 20lb the new Fluro Carbon from J Precision has earned it's place as an ideal material for the deadly fluro "D Rig".