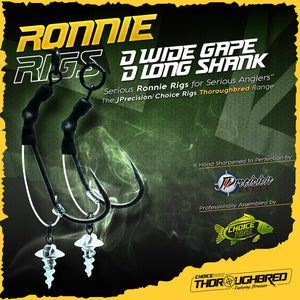 ***** 3x  "Thoroughbred" Ronnie D Rigs *****
 "Please note, price is for 3 rigs"
IF YOU REQUIRE BOOMS ADDING TO THESE RIGS PLEASE USE THE FOLLOWING LINK:
https://choicerigs.com/collections/booms
Two versions of a Ronnie Rig that are nothing short of special..
The "Ronnie D Rig" combines the deadly hand sharpened hooks from J Precision with the 360-degree hooking power of the Ronnie Rig. If that wasn't enough these rigs are finished "D Rig" style giving the bait complete freedom to be blown away and down the shank on the take away from the hook point and remove any worries about hook beads slipping on big casts.
The wide gape version is ideal for fishing pop ups over a tighter baited spot given that it sits so low to the deck, we also recommend fishing them over less choddy/weedy bottoms.
The long shank version is ideal for fishing over choddy bottoms or casting at shows where you want to know your presented with out knowing exactly what your fishing over. With fish allready over 50lb under their belt they also have a habit of tripping up the bigger lazy carp that don't want to tip to far to pick up a bait.
No hook beads that can slip on big casts
20lb IQ2 Fluro "D" section for unrivalled stealth
Super sharp J Precision hooks
Ideal for single hook bait fishing or over bait.
We strongly recommend using pop ups from Mad Baits "Compulsive Angler" range with these rigs due to their incredible buoyancy and powerful attractors.
https://madbaits.com/compulsive-range/