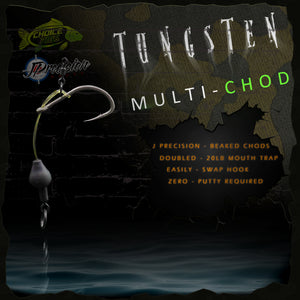 PLEASE NOTE, PRICE IS FOR 3 RIGS
Here at Choice Rigs we are always looking for way to make your fishing more convenient, and whilst we have several tungsten loaded options in store, an original multi chod was missing but not any more!

This particular rig has accounted for numerous sort after fish via J Precision team members and now has a proven big fish track record. 
Hassel free due to the tungsten dropper and super stiff given the doubled up Korda™ "Mouth Trap". Couple that with the ability to change the hook and your on to a winner 👌
- Hand Sharpened J Precision Chod B Hooks
- Trimmable Tungsten Dropper 
- Doubled 20LB Mouth Trap

- Super Strong
- Zero Putty Required
- Free Hook Point Protectors!
Would you like these sent as a stiff hinge rig? If so please follow the link below to add a boom!