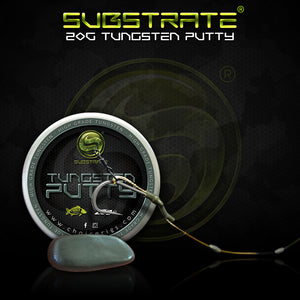 "To say we are proud of this putty would be an understatement, The all new Substrate putty in our opinion is the best you'll find. "
✅ Top grade, high density Tungsten

✅ Unique, neutral colour
✅ Super sticky but no mess
✅ Supplied in a top quality water proof tin
Boasting our own, unique very neutral colour, this super high density putty will fish well over any Substrate you chuck it at. 
Unlike other putty on the market, Substrate putty is best used by breaking off a small piece, then stretching it out paper thin and wrapping it around your rig, combi knot, main line, leader, swivel or just about anything else you can think of. This ensures a very firm hold capable of withstanding the strongest of casts.
The putty is supplied in a water proof tin, within the tin the putty is in a wrap, PLEASE KEEP THE PUTTY IN THE WRAP, this stuff is super sticky and will stick to the tin if not kept in the wrap 😉