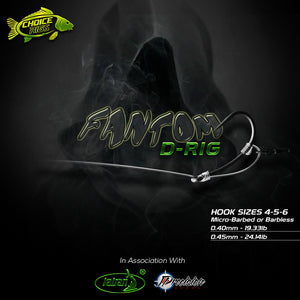 "Flurocarbon D rigs simply don't get any better"

Here at Choice rigs we work hard to source the latest and best materials for your rigs.
Katran® are without a doubt producing some of the best materials money can buy and their "Fantom" fluorocarbon is no exception!
This stuff has an incredibly high breaking strain for the diameter,  to put it into perspective..
Korda iq2 15lb is .40mm diameter/ Katran Fantom is 19.4lb in .40
Korda iq2 20lb is .45mm diameter/ Katran Fantom is 24.14lb  in .45
not only that it boasts superior knot strength and abrasion resistance to other fluorocarbons we have used.

Coupled with the deadly hand sharpened J Precision curve shank hooks these are a go too rig for any wafter/balanced bait presentation you can throw at it!
Don't forget guys, if you require anti tangle sleeves fitted to your rigs then please use the link👇
https://choicerigs.com/collections/end-tackle/products/3x-anti-tangle-sleeves-fitted-to-your-rigs